Comfyballs All Red
---
Rød forbindes av mange som selve symbolet på kjærlighet. Det er kanskje derfor All Red er elsket av våre kunder?
Eller kanskje det er at boxeren deler fargekoden til Ferrari?
Det eneste vi vet er at dette er en boxer som ikke kan slå feil, og den er suveren uansett hva du skal!
Artikkelnummer regular: 008
Artikkelnummer long: 016
Leveringsinformasjon
På Comfyballs.no får du gratis frakt på alle pakker. Produktene sendes samme eller neste arbeidsdag direkte til dørmatten eller postkassen din. Alle pakker har sporing og sendes videre til ditt lokale utleveringssted ved behov.
Technology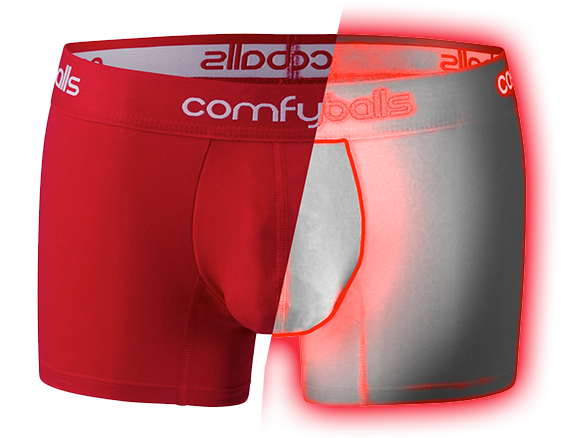 Traditional boxer trunks are not designed to keep your equipment sufficiently in place. We wanted to change that, and have developed what we believe are the most comfortable boxer trunks ever made.
We have worked hard and long to find the perfect cut. Comfyballs® trunks are tailored using flat-lock seams and super soft oeko-tex certified fabrics for superior comfort and breathability, and all models incorporates our own PackageFront™, designed for ultimate comfort by reducing heat transfer and restricting movement.

PackageFront™
Package Front™ is designed to keep your equipment in place, while being lifted away from the inside of your thighs, preventing unnecessary heating of the balls. Extremely curved panels combined with innovative use of elastic fabric seams lift the user experience to a new level! The size of the PackageFront™ is the same regardless of the size of the boxer trunk, and because the PackageFront™ is made of an extremely elastic material, you can be assured that the PackageFront™ will fit you.
Using the PackageFront ™ helps you reduce heat transfer that would usually occur from thighs to your equipment. Colder equipment is proven to assist in fertility and may help to improve sperm count. By lifting your equipment away from between your legs, you reduce the risk of balls discomfort. You won't have to manually adjust their position, which is a good thing, although you might miss it at first.
Størrelsesguide, menn
Regular eller Long?
Den lange modellen (Long) er identisk med standardversjonen, med unntak av lengre ben. Er du vant med normale boxere fra før er den lange modellen det sikreste valget.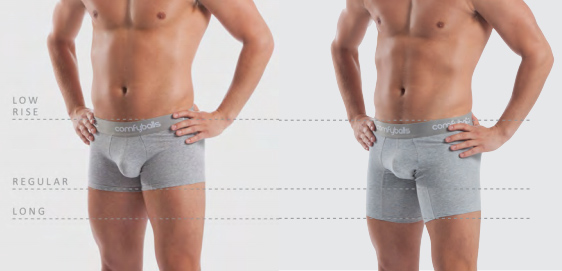 Velg samme størrelse som du bruker i jeans (ofte angitt i inches/tommer). Er du i tvil, velg den største.
| Størrelse | Waist (in) | Midje (cm) |
| --- | --- | --- |
| Small | 28-30 | 71-76 |
| Medium | 30-32 | 76-81 |
| Large | 32-34 | 81-86 |
| XL | 34-36 | 86-91 |
| 2XL | 36-38 | 91-96 |
| 3XL | 38-40 | 96-101 |